Barbie in animal style game
Follow us on Facebook and Youtube: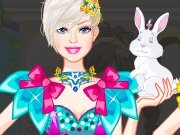 Description: Barbie in animal style
A new spring came and Barbie shows her dresses in the animal style. It seems that her talent is developed further and continues to delight fans of her work. Let her show her new collection of chic and bright dresses. Mix and match a variety of beautiful tops with skirts, shoes and jewelry. Find the perfect pair of shoes, skirts, blouses, dresses and hairstyles. Add beautiful decorations and some cute animal to her image. Perhaps this is the best game for girls about Barbie and animals!
How to Play: click with the mouse on the items that you would like to try on Barbie and drag them to her. Look at the proposed attire options. Can you repeat them or do better?
Played: 49986. Added: 24-02-2015, 23:32.
Play other games from this developer:
egirlgames.net
. Categories:
Barbie