Barbie the bride game
Follow us on Facebook and Youtube: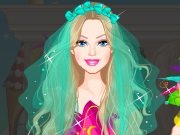 Description: Barbie the bride
This happy day finally came to Barbie and Ken! They are getting married. Barbie would like to be dressed in special dress. So she decided not to wear the white dress but the colored one. This is a very courageous and unusual move, but knowing Barbie we are not surprised. Really?
She found the perfect boutique where there are just a lot of such dresses. This made her very happy, and now she needs help of a real wedding dresses designer. Maybe it's you?
To help Barbie in this dressing up game, it's enough to choose dresses with the mouse and see how they are looking on her. If you want, you can see four new options pressing the button with the light bulb. It is located at the top right.
Played: 64773. Added: 11-11-2014, 21:08.
Play other games from this developer:
egirlgames.net
. Categories:
Barbie