Barbie superhero in the beauty salon game
Follow us on Facebook and Youtube: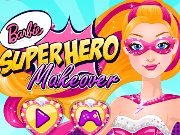 Description: Barbie superhero in the beauty salon
Barbie is well versed in fashion, knows how to do makeup and facial care, but after she became a Superhero, then it leaves little time. She found a way out. She will help in the beauty salon. Together, let's go there and help our sweet girl to maintain its image of the most beautiful girls in town!
How to play:
in this game you will be able to visit with Barbie beautician, macheist and stylist. Use the mouse and your imagination to clear the face of the girl to choose the perfect makeup and choose a beautiful dress. Create the best version of Barbie Superhero!
Barbie superhero in the beauty salon game walkthrough: