Barbie tooth fairy dress up game
Follow us on Facebook and Youtube: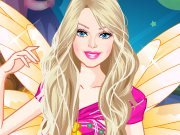 Description: Barbie tooth fairy dress up
Barbie wants to stay one night the tooth fairy. For this it is necessary to choose a wings wand and beautiful airy dress. Many girls would wish to meet a fairy in my room. Because it takes a tooth left under the pillow and puts back the coin or gift. This is a great and nice sharing on your own tooth.
In this Tooth fairy game, already invented several variants of the fairies. Look at them carefully. Surely you kind of liked it and you want to create the same. And you can create your own fairy and then see whose fairy turned out better.
How to play:
in this dress you need to choose a dress for Barbie, who wants to become the tooth fairy. The mouse drag whatever you want to put on the girl and watch how she transformed into a fairy.
Played: 54099. Added: 4-10-2015, 13:52.
Play other games from this developer:
egirlgames.net
. Categories:
Barbie