Barbie Winter Prom game
Follow us on Facebook and Youtube: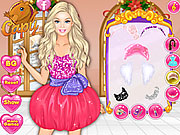 Description: Barbie Winter Prom
Came and winter came and the winter balls and parties. Barbie is very fond of such events and never misses a single evening if she has the opportunity. On one of these balls will be a cute guy from her school. Barbie would like to invite him to the ball, but she must be sure she has a great outfit for such an event. Let's think about what outfit I should choose and what hairstyle and dress will Barbie at the ball?
How to play:
in this dress up game with Barbie you will be able to help the girl to choose a stylish and beautiful dress for her. She must be sure about him. She really wants this guy was happy with this winter ball.