Barbie's christmas game
Follow us on Facebook and Youtube: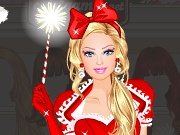 Description: Barbie's christmas
Christmas has come and Barbie wants to celebrate this holiday bright and incredibly beautiful. Since she wants to look perfect, you'll help her to get ready for this holiday. In her locker you will find cool clothes for Christmas, which makes Barbie incredibly beautiful and attractive. Try them all and choose what you like the best.
How to play:
Drag clothes with the mouse to the girl. Choose hair, jacket, skirt or pants and shoes. In addition, look at the hair accessories.
If you want to hide the hair in the hood, reverse the image of objects on the layers panel . Click on the light bulb to see the ideas of outfits. You can press the checkmark when your work will be finished.