Baby Juliet And Christmas Fun game
Follow us on Facebook and Youtube: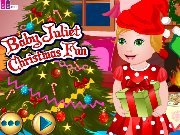 Description: Baby Juliet And Christmas Fun
Baby Juliet is very busy and would be your help in preparing for the celebration of the New Year. First, she needed to go to the store and buy gifts for all family members and friends. Then you go to the kitchen and will be cooking a delicious gingerbread treats for guests. After that you can start to prepare the house for the holiday. Decorate your Christmas tree and pack up the gifts in festive packaging. To do this you need to follow the instructions that you will see on the screen.
How to play:
in this game can you help baby Juliet to help prepare for the New Year. Use the mouse and follow the prompts that appear on the game screen.