Christmas tree decoration game
Follow us on Facebook and Youtube: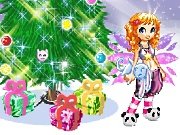 Description: Christmas tree decoration
The New Year is coming to us very quickly, all the shops and malls are shining with bright Christmas tinsel, beautiful toys and long-awaited gifts. There is no better work before the holiday season than decorate a Christmas tree. Girls in this wonderful online game you have to do just that. Beautiful Christmas tree is stil not decorated but the clock will strike soon. Decorate the Christmas tree as you like, utrn on your imagination, and you will succeed.
How to play "Christmas tree decoration":
It's very simple.There is a christmas tree In front of you on the game screen, but it needs to be decorated. On the right of the screen is an inventory that you can use to decorate Christmas tree.To place the decoration elements on the tree, just select and drag it with the mouse to the tree