Christmas biscuits game
Follow us on Facebook and Youtube: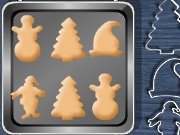 Description: Christmas biscuits
A little time is left before the New Year will come, but the real hostesses are beginning to prepare for New Year's feast, and to invent what tasty treat to cook for their guests. This cooking game for girls suggests to try a very interesting recipe of New Year's baking. There will be no multi-storey cakes, you will find a simple recipe of delicious homemade biscuits.
How to play the game "Cooking School:":
Recipe is very simple, you just have to follow the chef's instructions very carefully. Use the mouse to control the game,. Remember that time of levels of the game is limited.