Unicorn Chef Design Cake game
Follow us on Facebook and Youtube: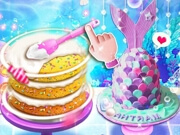 Description: Unicorn Chef Design Cake
In this game, you and the unicorn chef can practice making a mermaid cake. This is a great practice for anyone who is good with cake. There are so many options in this combination of unicorn and mermaid cake styles that you can get confused. At the beginning of the game, you can choose the type of baked goods. This can be cupcakes, layered cakes, mermaid tail cake, or just a colorful cake with lots of decorations. But in any case, in the beginning, you need to do the preparation of the dough. Use eggs, baking soda, flour, sugar, and other foods to create the tastiest sweet base. Then we send all this to the oven and wait for the right time. The next step is to prepare the glaze or cream. Use the hints in the game to get things right. Next, you should do the decorations. The game has a lot of sweets, powders, cotton candy and other sweets that you can use to decorate a cake. It will be just an incredibly sweet cake made by you personally. Its cool!
How to play:
Create the most beautiful and delicious Mermaid style cake. Add any sweets there and choose any color for them. There are many tips in the game, so you will know exactly how to do everything right.
Played: 19629. Added: 12-04-2021, 23:45.. Categories:
Cooking