Cooking school: Sarah cooks pancakes game
Follow us on Facebook and Youtube: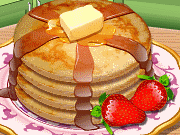 Description: Cooking school: Sarah cooks pancakes
This time, Sarah will hold a lesson in cooking school and tell you how to make 4 different types of pancakes. With buttermilk and bananas, blueberries and chocolate chip. You simply repeat for
Sara
and to avoid mistakes. Less mistakes - more points.
How to play: To cook the pancakes in the game repeat all the tips and do the everyrhing quickly and accurately. When finished learning one recipe, then proceed to the next!