Bruschetta game
Follow us on Facebook and Youtube: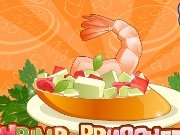 Description: Bruschetta
Bruschetta is an Italian word which means to roast over coals. You have to prepare the shrimp and put them in a plate with a salad on the basis of a tomato and avocado mixture.
How to play:
try to cook the most delicious food with shrimp. To do it, we need avocados and tomatoes. Perform simple movements displayed by a green arrow. Do it quickly and correctly otherwise you lose.