Bella's wedding cakes game
Follow us on Facebook and Youtube: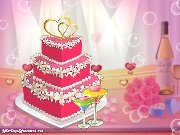 Description: Bella's wedding cakes
Bella opened her wedding cakes shop! It is brand new, but clients are coming one by one. So Bella needs an assistant. First, learn to cook a wedding cake, and then you can make cakes to serve orders. The groom will show you a cake that he would like to see at the wedding, and you are going to try to make it.
How to play:
you can immediately cook the cake by pressing the "Freestyle" and decorate it, and you can click 'Call' and make a cake, which customers have ordered for the wedding.
Played: 71739. Added: 25-05-2012, 10:53.. Categories:
Cooking