Strawberry pie game
Follow us on Facebook and Youtube: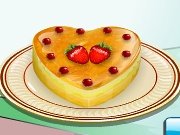 Description: Strawberry pie
Today, Sarah will teach you to cook cool strawberry pie. Get ready to learn a new recipe and watch your cake not to be burn.
Controls:
Do with the mouse what is shown in the window with tips.
Your number of points depends on how quickly you make the cake. The best mark is A, and the worst is D.