Strawberry Shortcake Pie Recipe game
Follow us on Facebook and Youtube: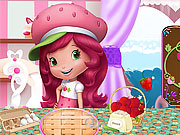 Description: Strawberry Shortcake Pie Recipe
Do you like Apple pies? Strawberry Shortcake loves all the sweet muses that it would be nice to cook a delicious pie with apples. Hurry to inform Strawberry Shortcake that you simply will agree to study the recipe and to help her in this. To begin, prepare your own food, clean the apples and knead the dough. As it finished, place the cake in the oven. In this game, you only need to use the mouse and follow the exact steps. If you do not know, you can help Strawberry Shortcake. Enjoy the game and cake!
Try new
zootopia game
at our fungirlsgames.net site.