Cooking school Risotto game
Follow us on Facebook and Youtube: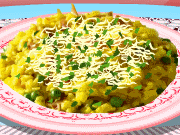 Description: Cooking school Risotto
How many games you've played with Sarah and successfully learned to cook delicious meals? In this lesson, you learn how to cook risotto. Successfully complete the steps for Sarah and win extra points for your efforts.
How to play:
first, you can read the recipe and instructions for the game or immediately press the "Play" button. Look at the simple Sarah's tips and accurately and correctly complete them. So you get more points and learn to cook another delicious dish!