Ratatouille: Sara's Cooking Class game
Follow us on Facebook and Youtube: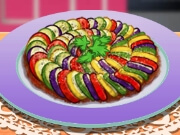 Description: Ratatouille: Sara's Cooking Class
In this game, Sarah is about to cook ratatouille. She knows how to cook this French dish to perfection. Therefore, Sarah knows every step of the preparation of this delicious dish. Let's visit Sarah's kitchen where she can easily and simply explain to you how to make ratatouille. Follow her tips, and you will easily learn this recipe. First you need to check if all the products are in stock. Then let's put all this on the table, we will also prepare all the items that are needed to prepare this dish. Correctly follow all the steps that Sarah prompts, and you will receive all possible stars that are in the game.
How to play:
in this game it is easy enough to learn how to cook Ratatouille with Sarah. Look for the hints she gives you and follows them all very accurately. This will give you the maximum number of stars.