My Little Pony Cooking Cake game
Follow us on Facebook and Youtube: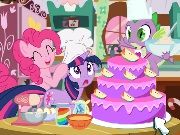 Description: My Little Pony Cooking Cake
Today pony Twilight Sparkle and Pinkie Pie early in the morning came to the kitchen and there is something doing. Let's see what they're doing! Wow! They are going to make the most delicious cake. But it is unlikely they can handle themselves. Let's join him and find out will it have the little pony make a delicious cake and not be distracted from cooking.
How to play:
in this game you have to help the ponies to make the cake. To start, use the mouse to find all the items in the kitchen needed for cooking. Next, look at cookbooks and note what foods and in what posterolaterally need to use to make your cake.
I you did not play new
my little pony circus fun game
, than try it. It is very fun and colorful game about pony at fun.