Pony Rarity game
Follow us on Facebook and Youtube: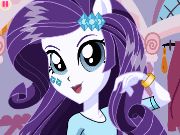 Description: Pony Rarity
Pony Rarity lives in Ponyville. She is the older sister of the Sweety Belle. She works as a seamstress and fashion designer in her own boutique. She has a Persian cat Opalescence.
In the game you can choose a new dress for the sweet and beautiful pony. In this dressing up game you only need to click with the mouse on the sections with clothes, jewelry and hairstyles, and then select them with the mouse to see how they look on Rarity.