The pony Dress up game
Follow us on Facebook and Youtube: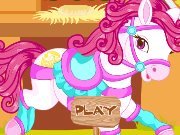 Description: The pony Dress up
This is a cute pony, and she is so beautiful. And what if you decorate her and make her even more beautiful? In this dress up game, everything is possible! Push Play and you will see the beautiful pony, and on the left and right there are buttons, which can be pressed to change something in the image of a beautiful pony.
Clicking on these buttons you can select the mane, tail, color of the pony, bridle, saddle and even tattoos for her. It'll be cool! In addition, you can change the background of the game. This button is located at the bottom right.
As you finish selecting all items, click on the button SHOW. Then you will see the result of your labor. Print out a picture or tell your friends about this Dress up through social networks.