Pony Pinkie Pie game
Follow us on Facebook and Youtube: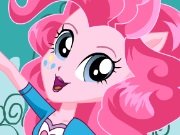 Description: Pony Pinkie Pie
Pinkie Pie is bright and cheerful pink pony. She loves humor, talking to her friends. She is very fond of songs and poems. It was useful for her passion of writing songs and performing them. She has a favorite animal. It is the toothless crocodile Gummy.
How to play
: In this dressing up mlp game you can change her hairstyle, outfit, the color of the pony's mane just according to your taste.
Pony Pinkie Pie game walkthrough: