Equestria sweets shop game
Follow us on Facebook and Youtube: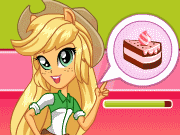 Description: Equestria sweets shop
Pinkie Pie loves sweets. And not only she, but all the ponies in the city. So she decided to run her own business. She opened her shop. Ponies come here and buy sweets. Help her to serve all the customers. After all, she is alone when there are a lot of customers!
How to play:
first look around the store and remember where and what candies are on the shelves. Then look at the customers and serve them the product. Do it as quickly as possible. Otherwise, they may become frustrated and leave the store without sweets.