Twilight sparkle game
Follow us on Facebook and Youtube: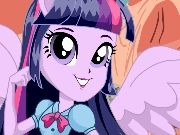 Description: Twilight sparkle
Pony the Twilight sparkle is going to Ponyville from Canterlot. There she will spend the time with Princess Celestia. Recently Twilight Sparkle was in communication with the princess and now finally she comes to visit her.
How to play:
Use Mouse to select sections with clothes and jewelry to choose a new outfit for a pony.