Canterlot High School Dash game
Follow us on Facebook and Youtube: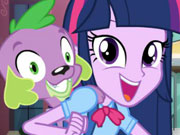 Description: Canterlot High School Dash
Fun and upbeat pony Rainbow Dash has a lot to do today. Her friends somewhere ran around the school and can not find each other. In this game, our pony Rainbow Dash will help the team reunite and defeat the spirit who climbed into the school, as well as do some more useful tasks that will appear on the next five levels.
Use the tips in the game to pass the levels. You will also need the spacebar and the arrow keys to help the pony complete the tasks.