Droplet's Journey game
Follow us on Facebook and Youtube: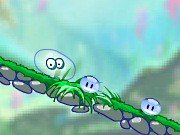 Description: Droplet's Journey
One small droplet went on a journey in search of big water to merge with it and become a part of a large lake. But it will take a long long way, through the forests and mountains to the castle, near which this the lake is located. And it can not not cope with this adventure without your help.
How to play online game for girls "Droplet's Journey":
The game is controlled using the keyboard. Move the droplet through the branches of trees avoiding a meeting with spikes and other creatures that will interrupt you. If you find a rainbow, you will immediately move to the next level. Collect small droplets on your way.
Good luck!
Played: 38808. Added: 15-04-2011, 12:59.. Categories:
Adventure