Monster garden adventure game
Follow us on Facebook and Youtube: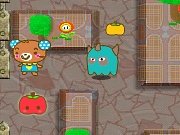 Description: Monster garden adventure
Two fluffy rabbits collect oranges in the garden. All would have been easy, but there are a lot of monsters in the garden in this game. Avoid them so that they couldn't catch you. You have only three attempts. Try to move fast and collect all the oranges on each level.
How to play "Monster garden" game
: Pick up the magic red apple. It temporarily closes monsters in the cage. If you are on time while the monster is in the cage, then all the monsters come into prison, but they won't stay there for a long time. So hurry up to play.
You can play the game together with your friend. One player uses the arrow keys, and the other uses WASD keys .
Played: 50364. Added: 31-01-2012, 18:07.. Categories:
Adventure