Adventures of Max Jungle game
Follow us on Facebook and Youtube: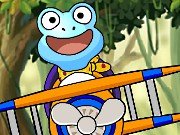 Description: Adventures of Max Jungle
Max Jungle is a funny frog. He lives far away in the jungle with his friends, snails. But the evil monkeys caught his friends and put them into cages. A great adventure is waiting for Max. He will try to save his friends and defeat the monkeys. But he can not cope with this difficult task on her own. Help him to find and rescue friends.
How to play online game for girls " Adventures of Max Jungle":
Play using the keyboard. Use the arrow keys to control moves of the frog. Destroy the enemies using the spacebar. To rescue friends shoot at the cages. collect Coca-Cola bottles on your way, they will add strength to you.
Good luck with the game!
Played: 36774. Added: 15-04-2011, 13:02.. Categories:
Adventure