Frizzle Fraz 3 game
Follow us on Facebook and Youtube: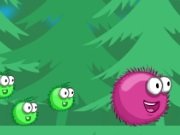 Description: Frizzle Fraz 3
This is a new version of the game about frizzles after the previous versions of the game (Frizzle Fraz and Frizzle Fraz 2). In this version of the game, we continue to collect keys, coins and small frizzles, save them and finish the level. There are so many levels in the game that you can play the game forever!
How to play: Press the arrow keys to make your pink frizzle jump and collect coins, small frizzles, keys and avoiding danger.