Audrey Spell Factory game
Follow us on Facebook and Youtube: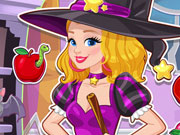 Description: Audrey Spell Factory
In a couple of days, people will celebrate Halloween. This fun and for someone a little scary holiday is very fun for many girls and boys. Audrey also likes to be an eccentric on this day and would like to recall the spells she knows. She has already worn her big cap and witch's cloak and is now ready to have fun. You can also take part in this and help her have fun. In this
Halloween game
, you visit Audrey's spell workshop where you can mix different ingredients and get the most unusual result. Make combinations of three different things to get all 12 kinds of spells.