Snail Bob 8: island game
Follow us on Facebook and Youtube: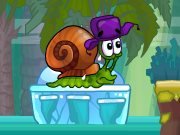 Description: Snail Bob 8: island
Snail Bob and his grandpa were fishing on ice in winter. And for some reason snail Bob has found himself on the ice, which floated to an unknown island. Now our traveler needs to get home. To do this he has to go through many dangerous levels, solve puzzles, and avoid cannibals. It's good that you will help him. Right?
How to play:
help Snail Bob to escape from the island and pass all levels. Use the mouse. It does not matter if you never played this game. You can easily learn how to manage in the game if you pay attention to the tips. Press the buttons and levers. If you click on a snail, he will stop. So Bob started walking in the other direction click on the arrow button at the top of the game screen.
Snail Bob 8: island game walkthrough: