Find the present game
Follow us on Facebook and Youtube: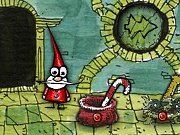 Description: Find the present
Santa Claus lost the 2012 year. This boy is hiding somewhere. Find him collectinggifts, he scattered,along the way. Sometimes you'll see the levers in the form of a candle or a candy.Switch them to turn on the green light, and to open the door or newopportunity somewhere.
How to play:
see tips in the game to understand how to play. You will need only 4 arrow keys. Movement - left and right, jump - key up. To walk into the door or turn on / off use the key down.
Jump to all possible directions, shelves and branches of trees. The game has a lot of hidden windows and places.
Played: 44118. Added: 3-02-2012, 20:07.. Categories:
Adventure