Crosswalk Adventure game
Follow us on Facebook and Youtube: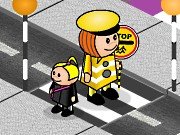 Description: Crosswalk Adventure
Surely everyone in the school was told about the road laws. Everyone knows that road has to be crossed very carefully. We invite you to an exciting road adventure. In this wonderful online game for girls you can approve your knowledge of rules of the road.
How to play game "Crosswalk Adventure":
Your task is to help children to get to school and library. To do this you need to lead them across the road. Use the arrow keys to move around. Go to the crosswalk and wait until the children cross the road. The game has many levels, each level will be more complicated then previous.
Good luck with the game!
Played: 57645. Added: 15-04-2011, 13:23.. Categories:
Adventure
Crosswalk Adventure game walkthrough:
Play more crosswalk games: