My superhero boyfriend game
Follow us on Facebook and Youtube: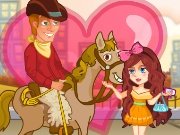 Description: My superhero boyfriend
Imagine that you are going home through dark night, and your heel broke. And the bad bully sticks to you. How nice it would be to make a phone call your superhero boyfriend, to come and punish the bully, and save!
How to play:
Call the superhero for girl in this fun game. First watch the video in the game, and then dial the number of five numbers on the phone and press the flashing button to call. After a moment, your hero will appear. And how you could not fall in love?