Adventures of ladybugs game
Follow us on Facebook and Youtube: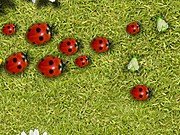 Description: Adventures of ladybugs
Wonderful summer day. Daisies are blooming, the grass smells so good. Ladybugs come out for a walk. It's time to eat so tasty aphids. There are so many aphids on the meadow. But the grass can also hide the spider. Don't worry about it, the butterfly will help you, it shall lead ladybugs to the right place.
How to play online game for girls "Adventures of ladybugs:
The game is controlled with the mouse. Initially, the game you can choose the difficulty. Move the mouse to direct the movement of ladybugs. when the ladybugs eat the required number of aphids, access to the next level will be opened. The game has many levels. With each level the game becomes more complicated.
Good luck with the game!
Played: 37584. Added: 15-04-2011, 13:20.. Categories:
Adventure