Frizzle Fraz 4 game
Follow us on Facebook and Youtube: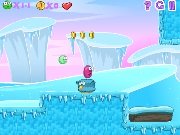 Description: Frizzle Fraz 4
These Frizzles do not leave each other in trouble. Big and fluffy frizzle was informed that his friends were frozen in the Arctic. So he immediately decided to rescue them. But he must be careful. He must avoid the pits with spikes, any obscure little animals. You can cope with the latter if you jump on their heads. Then you need to see all the ice cubes and make sure there are no kids frizzles there. If there is a cube, then smash it and free the fluffy frizzle.
Control the game only with the arrow keys. Push them to move and use the up arrow key to jump up.