Three Pandas game
Follow us on Facebook and Youtube: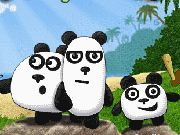 Description: Three Pandas
The three funny and cute pandas were captured by pirates. Now they are in a cage on the pirate ship. Help the three pandas to find a way out of the pirate ship and then the jungle. They are meet dangerous animals, traps and complex problems on their way.
To help pandas to escape use the mouse and their abilities in the game. Pandas can walk, jump, help each other. Move the Mouse over them and you will find tips on what they can do in a given situation. Long panda can help friends to move down.
Played: 37899. Added: 23-05-2013, 13:10.. Categories:
Adventure
Three Pandas game walkthrough: