Unicorn Beauty Salon game
Follow us on Facebook and Youtube: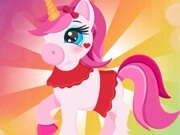 Description: Unicorn Beauty Salon
Welcome to an unusual beauty salon. His main clients are unicorns. In this game you will learn what it is like to work in a beauty salon where unicorns come to update their appearance. Here, these cute creatures can not only make light makeup, but also paint the mane and tail, make them more magnificent or shorten them. In addition, we can change the color of the unicorn's skin, choose a different horn. And at the end of all these actions, we can create a cool fashionable outfit for our client. We can choose from a cape, head jewelry as well as cool unicorn shoes. It will be a very cool experience for you and a great opportunity for the client to get a new look for their daily life.