Pony Fluttershy game
Follow us on Facebook and Youtube: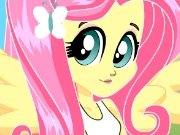 Description: Pony Fluttershy
This cute pony Pegasus is from a Pegasus family. She lives in a small house near the Evergreen forest and takes care of the animals in the forest. She loves rabbit themost of all the animals. Fluttershy is very timid and shy pony and so it almost does not fly and is closer to the ground.
How to play: In this dressing up game you can pick up a new hairdo, jewelry and make-up for a pony. Create a unique and beautiful image for Pony Fluttershy.