Fluttershy Archery Style game
Follow us on Facebook and Youtube: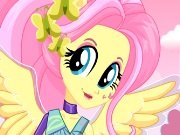 Description: Fluttershy Archery Style
Pony love to entertain. Very soon Canterlot residents will participate in big competitions for ponies. Ftallershay and Applejack will compete in archery. Let's think about what they can wear in this competition.
How to play:
In this dress up game you will choose an outfit for Fluttershy that will compete in the annual competition. Use the mouse to pick a dress, skirt, blouse and hairdo for Fluttershy. I think that you get a great costume for this archer. What do you think who will win the competition? Perhaps it will be a draw?