Crystal Gala Fluttershy Dress Up game
Follow us on Facebook and Youtube: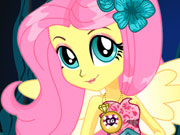 Description: Crystal Gala Fluttershy Dress Up
In this game, the pony Fluttershy wants to go on a journey in search of the Crystal Gala. According to legend, the magical crystal ponies live there. They are very similar to ponies from Equestria and they are difficult to find as a curse is imposed on their city. In addition, the crystal ponies are captured and they have lost their freedom. Pony Fluttershy wants to find this place and free these beautiful ponies with bright and crystal wool.
Let's choose an outfit for our beloved pony in this My Little Pony dress up game and create an image as close as possible to the pony from the Crystal Empire.