Belly dancing costume game
Follow us on Facebook and Youtube: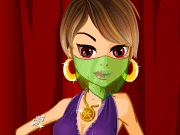 Description: Belly dancing costume
Oriental dance has always been a sign of style and taste. Surprise this beauty with a good costume you made up of what you find in the girl's wardrobe.
How to play: to choose a costume for belly dancing push the buttons with the arrows on the left and right from the circles. Pick some clothes for the girl. To start again, click on the button "Start over", and click "Ready" when you're done creating the costume.