All Year Round Fashion Addict Island Princess game
Follow us on Facebook and Youtube: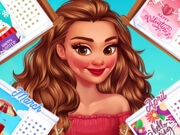 Description: All Year Round Fashion Addict Island Princess
Do you love calendars? What about a trendy calendar where each month tells you what will be trendy in each new month? The princess, the heroine of our dress up game, decided to take part in the challenge and create as many as 12 fashion photos for the year. She has to create photos that match the weather and fashion for the whole year! It's very cool and difficult at the same time. Imagine how much work it is! Let's help her make the right choice and offer her own version of fashionable and stylish outfits for every month. I think she will be very happy with such help. In addition, you can save a photo of each month for yourself and use it as a calendar for a month.