Schools Fashion Stars game
Follow us on Facebook and Youtube: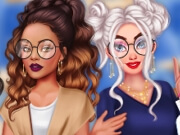 Description: Schools Fashion Stars
Every girl wants to look beautiful and attractive in and out of school. What can we say about celebrities or princesses? They are just crazy about it and they really like it when people pay attention to them. They especially like to walk along the stairs and along the school corridors during breaks. At this time, hundreds of schoolchildren see them and this is why girls love to dress up in front of the school. For this, they follow fashion trends, communicate with each other about it, and often visit fashion boutiques. In this game, you can help each of the girls find something to go to school. You can choose from hairstyles, makeup, nerd glasses, earrings, dresses, skirts, and jackets. And of course, the final choice will be a handbag.