My Fall Bucket List game
Follow us on Facebook and Youtube: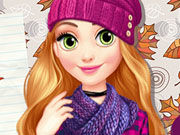 Description: My Fall Bucket List
A beautiful but cold season has come. It is autumn. Many people love this period of the year for the way nature is changing and enjoying it. In addition, you can come home and climb into a warm home corner of the house to drink warm tea with cookies. In this dress up game, you can help the girl to choose clothes for a walk, choose an autumn playlist and decorate the room where the girl will spend these evenings and enjoy the view from the window.