Princesses Royals vs Hipsters game
Follow us on Facebook and Youtube: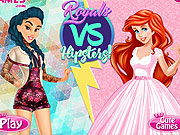 Description: Princesses Royals vs Hipsters
Princesses Rapunzel, Ariel and Jasmine decided to try something new for themselves. The world does not stand still and fashion too. Hipster-style clothing is now very popular. Therefore, for princesses it was very handy. In this dress up game, you will learn how princesses changed their royal outfit to hipster clothes and what came of it. In addition, our beloved girls posted the result of their choice on Facebook and now fans will be able to rate it. Thus, we will find out which clothing option in the battle of princesses against hipsters scored the most likes.