Princesses First Day of College game
Follow us on Facebook and Youtube: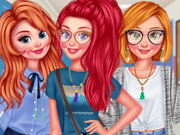 Description: Princesses First Day of College
It was too long and warm summer. Therefore, the princesses got bored with their studies and friends whom they had not seen for a long time. In this dress up game with princesses, you can help them find outfits for their first day at college. Each of the girls needs to choose two outfits. One for study, and the second for the first day on campus. This is a very crucial moment. After all, every princess wants to surprise her friends with a great taste and dressing ability. Therefore, your help will be very helpful. Enjoy the game and share princess photos on social networks.