Create your own pony game
Follow us on Facebook and Youtube: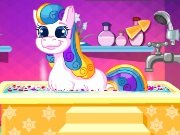 Description: Create your own pony
In this game you can choose the usual pony and create from it the best and beautiful pop star. In the game you can visit the spa salon, clothing store, tattoo parlor, salon haircuts.
How to play:
In this game you convert ordinary pony in the most beautiful and cute. Use mouse and hints in the game to make him make up, pick up clothes, choose hair color, make a tattoo. Additionally, you can choose to tattoo the pony!