Trixie and The Illusions Coloring Game game
Follow us on Facebook and Youtube: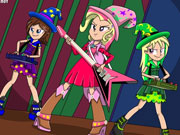 Description: Trixie and The Illusions Coloring Game
In this fun coloring game about Pony Trixie and her musical group Illusions, you can help her find bright outfits for this important competition for her. In this music competition, the strongest should win and let it be our favorite pony Trixie and her band. After all, she has very strong rivals. These are Lyra Heartstrings, Sweet Drops, Dazlings and Rainbooms. As you can see, a cute pony has many strong rivals and she needs to train to be the best. Let's help her in choosing the color of the outfit, musical instruments and stage. I think that you will greatly help Trixie in this competition and she will not doubt that she looks great, but will think about the good performance of her musical group.