Dress up with Pinkie Pie game
Follow us on Facebook and Youtube: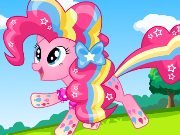 Description: Dress up with Pinkie Pie
Pinkie pie likes to have fun and sing songs! It is never boring and the other girls-ponies happy with her to spend a fun time. In this game, Pinkie pie received a gift of beautiful pink mane. Let's decorate and give a good mood this cute pony!
In this dress up game controls with the mouse. She press the buttons to change something in the guise of a pony. It must be very beautiful! What outfit have you chosen?