Equestria Girls Classroom Cleaning game
Follow us on Facebook and Youtube: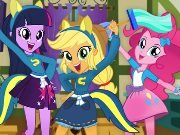 Description: Equestria Girls Classroom Cleaning
After a great vacation started school and girls from Equestria went to school. It appears not only on vacation is fun, but at school too! The girls were so excited meeting that he didn't notice how they made a mess in the classroom.
How to play:
in this game you will be able to help girls to do the cleaning in the classroom until this mess did not see the teacher. If this happens, Schoolgirls can be punished. Who does? Use the mouse to remove all the things in the class in a backpack, a wastebasket and a pencil holder. So you will be able to clean the place of pencils, scraps of paper and books. Also use the brush to make the floor clean.